Traditional skateboards have their own shortcomings, such as high demand for physical strength, low riding safety or age limitation and so on. Fosjoas K1 skateboard has no limits at all.
16, August 2016: Skateboarding is one of very popular sports, especially among young people. Traditional skateboards realize physical strength to glide. Meanwhile, they are short of protectivemeasures in the course of gliding. Because of above two reasons, skateboarding is often quite prevailing in young people, while few elder people or kids have a try on it. However, it is Fosjoas K1 electric skateboard that thoroughly changes such a situation. It is not only suitable for people from all age groups to ride, but also able to fully satisfies your skateboardingenthusiasm to the hilt.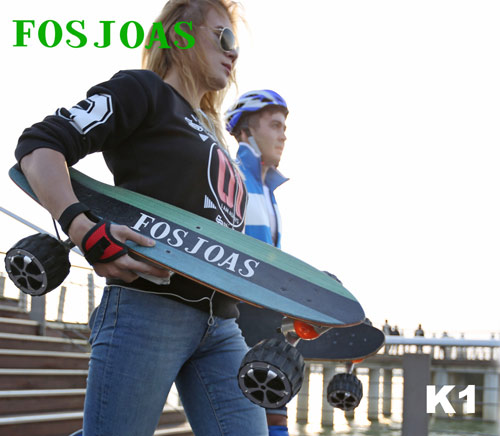 It doesn't need physical strength to ride Fosjoas K1 motorized skateboard, because it is powered by lithium-ion battery. What you need to do is to keep balance so as to ride Fosjoas K1 motorized smoothly. On the one hand, you can control the speed and direction of Fosjoas K1 motorized skateboard via adjusting body states. For example, leaning forward will speed it up. On the other hand, you can control the speed by the equipped 2.4G wireless remote control. Therefore, it is very relaxing to ride Fosjoas K1 motorized skateboard, which paves the way for the elderly and kids to ride it, too.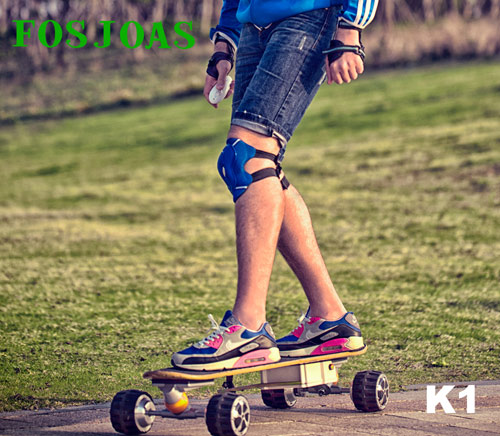 In order to ensure high riding safety, two PU damping blocks are installed on front and back wheels respectively, which can absorb the bumps on road so as to give you stable and comfortable riding experience. The adopted double protective plates guarantee normal operation of battery, which also ensures smooth riding. Thus, it is very safe to ride Fosjoas K1 wireless remote control skateboard. All in all, Fosjoas K1 skateboard thoroughly gets rid of weaknesses of traditional skateboards. No matter what age group, gender and occupation you are, you can have a try on Fosjoas K1 skateboard and it will bring you happiness as long as you love skateboarding. You can liberate your gliding enthusiasm on it at will.

For Media Contact:
Person Name: Jason
Company: Moben Intl (England) Co., Limited
Address: London, UK
Email Id: moben@fosjoas.com
Website: http://www.fosjoas.com/