Fosjoas K3 scooter is famous for comfortable riding experience, electronic brake system, hydraulic suspension system and steering sensor system.
09, September 2016: The trip mode has changed obviously as traffic jam is more and more serious with each passing day. Several years ago, private car was the dreamy travel transport. But now, a transport that can offer comfortable and safe riding, avoid traffic jam and take people to destination quickly is badly needed. In fact, Fosjoas K3 sitting-posture electric scooter can satisfy those expectations. It is like a shinning point in intelligent self-balancing electric scooter sector.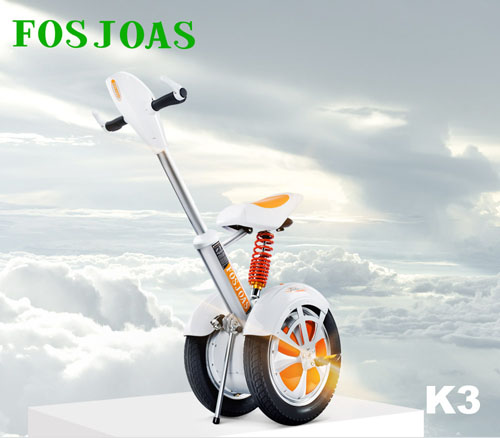 Different from other scooters, Fosjoas K3 electric scooter is equipped with a leather saddle. Under the saddle, it is hydraulic suspension system. Such a system has been through one million times of trail tests, which has two functions: one is shock absorption on bumpy roads and the other is speed control when going downhill so as to protect riders. On the back of saddle, it is automatic steering-sensor system. The iridescent light makes Fosjoas K3 electric scooter full of individuality and it also reminds the back passersby of changing direction, which ensures safe night riding. Besides, the adopted electronic brake system offers instant, accurate and safe braking, which thoroughly changes the traditional brake mode that is based on mechanical drive.

Fosjoas K3 sitting-posture self-balancing scooter is powered by 520Wh lithium-ion battery. Although the practical range is decided by many factors, such as weight of rider, road condition or operation method, fully-charged Fosjoas K3 sitting-posture self-balancing scooter is enough to sustain many travel demands in daily life.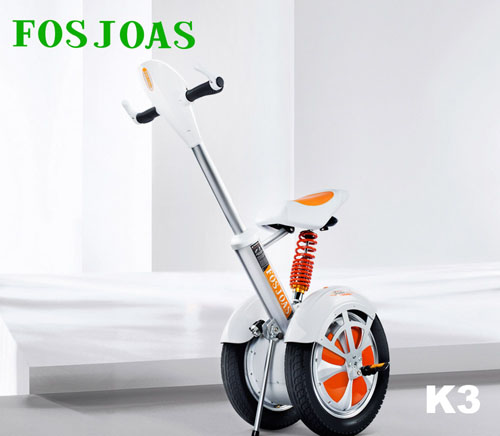 The phone APP is very magical. Such an APP can be downloaded from official website. It can be connected with the phone via data cloud. Then, users can check scooter information anytime and anywhere. For example, users can read the current riding speed, remaining battery, total mileage and outside temperature via the phone directly. The scooter positioning and anti-theft alarm 24 hours are also realized. It must be the mainstream in future travels.

For Media Contact:
Person Name: Jason
Company: Moben Intl (England) Co., Limited
Address: London, UK
Email Id: moben@fosjoas.com
Website: http://www.fosjoas.com/